Head over to 5 Minutes For Mom to enter to win over 30 giveaways and also help give to those in need this holiday season: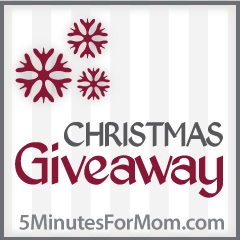 "Under the Tree 2009 is our chance to spread some Christmas love to families in need through the generosity of the companies contributing to our Christmas Giveaway. We are so grateful for their participation!
In addition to providing the fabulous prizes for our readers to win by commenting on the individual reviews, the wonderful companies participating in the Christmas Giveaway 2009 are providing presents to selected families who are in need this Christmas.
If you know a family who will not be able to provide presents for their children this Christmas, click over and read more about Under the Tree and how you can nominate a family in need.
And don't forget to click over and comment to show your support and enthusiasm for Under the Tree and for the participating companies!"